IBA and Indiana University Sign MOU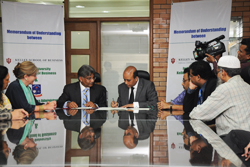 An MOU was signed between Institute of Business Administration (IBA), University of Dhaka and Kelley School of Business, Indiana University at 11:00 a.m. on 1st March at IBA Conference Room. The MOU establishes the Herman B Wells- M.O. Ghani Faculty Fellowship program. The fellowship has been named after Dr. M. Osman Ghani, former Vice Chancellor, University of Dhaka and Dr. Herman B Wells, former University Chancellor of Indiana University.
Ms. Veronique Yousuf and Mr. M Osman Yousuf (son of late Dr. M.O Ghani) handed over the MOU on behalf of Daniel C. Smith, Dean, Kelley School of Business to Prof GM Chowdhury, Director, IBA.
IBA was established in 1966 in collaboration with Indiana University and the fellowship program marks the renewal of the relationship between these two institutes. It also honors the remarkable contribution of Dr. M.O Ghani to the education sector of Bangladesh.
Faculty members of IBA including Prof. Dr. Nurur Rahman, Alumni, Indiana University, Prof. M A Momen, Prof. Dr. Jawadur Rahim Zahid, Prof. Dr. Khair Jahan Sogra, MBA Chairperson, Mr. Md. Mohiuddin, BBA Chairperson graced the signing ceremony. Prof. G.M. Chowdhury and Mr. Osman Yousuf, both asserted the event as a milestone for the IBA-Indiana partnership and emphasized that this is the beginning of many more developments and achievements which will blossom from this fellowship program. Mr. Osman Yousuf also shared his joy in establishing the MOU on the date, 1st March, which is the 100th birthday anniversary of his father, M.O Ghani. The ceremony concluded with a note of thanks from the faculty members of IBA to Mr. Osman Yousuf and Prof GM Chowdhury for heralding in a new era of knowledge-sharing and development of IBA and Indiana University.